About Us
Fortune House is a Chinese takeaway in Chelmsford. Why don't you try our Fried King Prawn with Mushrooms or Sweet & Sour Chicken in Batter (10)?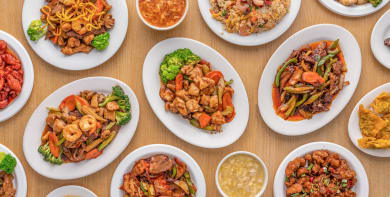 Reviews
397 reviews
Sandra
"Lovely food very hot and tasty"
17/10/2020
Natasha
"Great fresh food"
15/10/2020
Ron
"First time with the Fotune House and one of the best chinese ever. Had to phone the restaurant to add to the order and it was no problem delivery was 15 minutes late but apart from that excellent."
03/10/2020
Matthew
"Best Chinese in ages, food was super quick, delicious, neatly packaged and the delivery driver was lovely."
29/09/2020
Menu
Spicy Singapore Rice Noodles (Large)
Hot
£5.40
Vegetarian Singapore Rice Noodles (Large)
Suitable for vegetarians
Hot
£5.00
Singapore Fried Rice (Large)
Hot
£5.40
Chow Mein Singapore Style (Large)
Hot
£5.40
Shredded Chicken Chow Mein
£4.70
Shredded Roast Duck Chow Mein
£5.60
Thailand Shrimp Chow Mein
£5.00
Stir Fried Chow Mein
Suitable for vegetarians
£3.60
Mixed Vegetable Chow Mein (Large)
Suitable for vegetarians
£4.50
Mushroom Chow Mein (Large)
Suitable for vegetarians
£4.50
Peking Style Chicken Wings (6 Pieces)
£4.30
Salt & Chilli Chicken Wings (6 Pieces)
Hot
£4.30
Crispy Honey Chicken Wings (6 Pieces)
£4.30
Sweet & Sour Chicken Wings (6 Pieces)
£4.30
Plain Chicken Wings (6 Pieces)
£3.70
Crispy Chilli Beef A La Peking
Hot
£5.50
Special Fried Three Meats
£5.40
Beef Buttered in Black Pepper Sauce
£5.60
Cantonese Style Plum Sauce (A) King Prawn
£5.80
Cantonese Style Plum Sauce (B) Sliced Roast Duck
£5.80
Cantonese Style Plum Sauce (C) Sliced Chicken
£5.50
Cantonese Style Plum Sauce (D) Fried Beef
£5.50
King Prawn with Satay Sauce
£5.80
Sliced Chicken with Satay Sauce
£5.50
Fried Beef with Satay Sauce
£5.50
Grilled Chicken with Lemon Sauce
£5.50
Grilled Chicken in Garlic Sauce A La Peking
£5.50
Sliced Chicken with Garlic
£5.50
Diced Chicken in Yellow Bean Sauce
With cashew nuts
£5.70
Fried King Prawn in Yellow Bean Sauce
With cashew nuts
£5.80
Fried Green Peppers in Black Bean Sauce (A) King Prawn
Slightly hot
£5.80
Fried Green Peppers in Black Bean Sauce (B) Sliced Beef
Slightly hot
£5.50
Fried Green Peppers in Black Bean Sauce (C) Diced Chicken
Slightly hot
£5.50
Fried Green Peppers in Black Bean Sauce (D) Sliced Squid
Slightly hot
£5.80
Fried Green Peppers in Black Bean Sauce (E) Roast Duck
Slightly hot
£5.80
Fried Green Peppers in Black Bean Sauce (G) Scallops
Slightly hot
£7.20
Fried Green Peppers in Black Bean Sauce (H) Chopped Lamb
Slightly hot
£5.80
Fried Green Peppers in Black Bean Sauce (F) Roast Pork
Slightly hot
£5.50
Hunan Chicken in Spicy Sauce
Hot
£5.40
Sliced Chicken in Szechuan Style (Hot & Sour)
Hot
£5.40
Fried Chicken in Chilli Sauce
Hot
£5.40
Fried Chicken with Ginger & Spring Onions
£5.40
Sliced Beef in Chilli Sauce
Hot
£5.40
Fried Beef with Ginger & Spring Onions
£5.40
Sliced Beef in Szechuan Style (Hot & Sour)
Hot
£5.40
Roast Pork in Szechuan Style (Hot & Sour)
Hot
£5.40
Fried Beef in Oyster Sauce
£5.40
Fried Chicken in Oyster Sauce
£5.40
Fried King Prawn in Oyster Sauce
£5.80
Honey in Hot Chilli Sauce (Hot & Spicy) (A) King Prawn
Hot
£5.80
Honey in Hot Chilli Sauce (Hot & Spicy) (B) Sliced Beef
Hot
£5.40
Honey in Hot Chilli Sauce (Hot & Spicy) (C) Chicken
Hot
£5.40
Honey in Hot Chilli Sauce (Hot & Spicy) (D) Duck
Hot
£5.80
Honey in Hot Chilli Sauce (Hot & Spicy) (E) Pork
Hot
£5.40
Chopped Lamb Curry (Large)
£5.50
Mixed Vegetables Curry (Large)
Suitable for vegetarians
£4.40
Mushroom Curry (Large)
Suitable for vegetarians
£4.40
Banana Fritter with Syrup
Suitable for vegetarians
£3.00
Pineapple Fritter with Syrup
Suitable for vegetarians
£3.00
Gourmet Appetisers (For 2 Persons)
Spare ribs, prawn on toast, crispy pancake rolls, crispy king prawns, seaweed & sweet & sour sauce
£9.00
Aromatic Crispy Duck Quarter (6 Pancakes)
Served with spring onions, cucumber & special hoisin sauce
£8.80
Aromatic Crispy Duck Half (12 Pancakes)
Served with spring onions, cucumber & special hoisin sauce
£16.50
Aromatic Crispy Duck Whole (24 Pancakes)
Served with spring onions, cucumber & special hoisin sauce
£31.00
Mongolian Crispy Lamb For 2
With hoisin sauce & 6 pancakes
£8.80
Mongolian Crispy Lamb
In hoisin sauce & spring onions
£8.00
Prawn on Toast with Sesame Seeds
£4.30
Mixed Vegetable Soup
Suitable for vegetarians
£2.80
Hot & Sour Soup Szechuan Style
Hot
£3.00
Crab Meat & Sweetcorn Soup
£3.20
Salt & Pepper King Prawn
Hot
£5.80
Shredded Smoked Chicken (Dry)
£5.40
Salt & Pepper Chicken
Hot
£5.20
Capital Spare Ribs with Sauce
£5.40
Salt & Pepper Spare Ribs (Large)
Hot
£5.40
Barbecued Spare Ribs of Pork (Dry)
£5.40
Spare Ribs with Barbecue Sauce (Large)
£5.40
Chicken Satay (4 Skewers)
£5.20
King Prawn Satay (4 Skewers)
£5.80
Crispy Chinese Dumplings (6)
£5.00
Crispy Mini Pancake Roll
With duck
£4.20
Crispy Vegetarian Pancake Rolls (6)
Suitable for vegetarians
£3.00
Garlic Mushrooms
Suitable for vegetarians
£3.60
Crispy Seaweed in Grated Scallops
Seasonal green
£3.60
Crispy Won Ton with Sweet & Sour Sauce
£3.60
Sliced Roast Duck with Pineapple
£5.80
Sliced Duck with Mixed Vegetables
£5.80
Roast Duck with Soya Sauce
£5.80
Roast Duck with Cashew Nuts
£5.80
Sliced Duck with Mushrooms
£5.80
Roast Duck with Orange Sauce
£5.80
Chicken with Curry Red
Hot
£5.50
Chicken with Curry Green
Hot
£5.50
Roast Duck with Curry Red
Hot
£6.10
Roast Duck with Curry Green
Hot
£6.10
Beef with Curry Green
Hot
£5.60
Seafood with Curry Red
Hot
£7.30
Seafood with Curry Green
Hot
£7.30
King Prawn with Curry Red
Hot
£6.10
King Prawn with Curry Green
Hot
£6.10
Thai Spicy Spare Ribs
Hot
£5.70
Thai Style Chicken with Cashew Nuts
Hot
£5.80
Thai Style King Prawn
Hot
£6.30
Thai Style Chicken Wings
Hot
£5.30
Mixed Vegetable Udon (Large)
£5.00
Quarter Roast chicken with Mushroom, Peas & Chips
In gravy
£5.60
Plain Omelette & Chips
Suitable for vegetarians
£4.80
Mushroom Omelette & Chips
£5.00
King Prawn Omelette & Chips
£5.70
Roast Chicken Chinese Style
£4.90
Stewed Chicken with Mushrooms
£4.90
Fried Chicken with Pineapples
£4.90
Stewed Chicken with Cashew Nuts
With water chestnuts, bamboo shoots
£4.90
Diced Chicken with Mixed Vegetables
£4.90
Chicken with Cream Style Sweetcorn
£4.80
Fried Chicken with Onions
£4.90
Fried Chicken with Bamboo Shoots
With water chestnuts
£4.90
Grilled Chicken with Orange Sauce
£5.10
Fried Scallops with Ginger & Spring Onions
£7.20
Fried King Prawn with Scallops
£7.00
Stir Fried King Prawn
With scallops & squid supreme
£7.00
Fried Scallops, King Prawns & Squid
With green peppers in black bean sauce
Hot
£7.20
Fried Scallops with Mixed Vegetables
£7.20
Pan Fried Squid with Mixed Vegetables
£5.80
Fried Squid with Ginger & Spring Onions
£5.80
Fried King Prawn in Garlic Sauce
With bamboo shoots
£5.80
Special King Prawn in Szechuan Style
Hot & sour
£5.80
Deep Fried King Prawn in Batter
£5.80
Fried King Prawn with Mushrooms
£5.80
Fried King Prawn with Garlic
£5.80
Fried King Prawn with Mixed Vegetables
£5.80
Fried King Prawn with Tomatoes
£5.80
Fried King Prawn with Ginger & Spring Onions
£5.80
Fried King Prawn with Onions
£5.80
Fried King Prawn with Pineapples
£5.80
Fried King Prawns with Cashew Nuts
With water chestnuts & bamboo shoots
£5.80
Thailand Shrimps Chop Suey
£4.90
Mushroom Chop Suey
Suitable for vegetarians
£4.10
Fried Beef with Mushrooms
£5.10
Stewed Beef with Mixed Vegetables
£5.10
Roast Pork with Mushrooms
£5.00
Roast Pork in Oyster Sauce
£5.00
Sliced Beef with Cashew Nuts
With water chestnuts & bamboo shoots
£5.20
Fried Mushrooms
Suitable for vegetarians
£3.40
Stir Fried Mushrooms
Suitable for vegetarians
£3.70
Tofu with Mixed Vegetables
Suitable for vegetarians
£4.20
Tofu with Ginger & Spring Onions
£4.70
Tofu with Chilli & Salt
Suitable for vegetarians
Hot
£4.70
Tofu with Chilli & Black Bean Sauce
Hot
£4.70
Thai Style Fried Tofu
Hot
£4.90
Portion of Fried Onions
Suitable for vegetarians
£3.20
Fried Pekinese Mixed Vegetables
£3.80
Fried Mixed Vegetables
With chilli black bean sauce
Hot
£3.90
Fried Bamboo Shoots & Water Chestnuts
Suitable for vegetarians
£3.40
Stir Fried Bean Sprouts
Suitable for vegetarians
£3.20
Curry Sauce on Chips
Suitable for vegetarians
£2.50
Sweet & Sour Sauce on Chips
Suitable for vegetarians
£2.50
Portions of Chips
Suitable for vegetarians
£1.80
Chips with Salt & Pepper
Suitable for vegetarians
Hot
£2.50
Sweet & Sour Mixed (12)
Prawn chicken & pork
£5.50
Sweet & Sour Pork in Batter (10)
£4.60
Sweet & Sour Chicken in Batter (10)
£4.80
Sweet & Sour King Prawn in Batter (10)
£5.80
Sweet & Sour Spare Ribs with Pineapples
£5.40
Sweet & Sour Mixed Vegetables
£3.80
Hot & Sour Mixed Vegetables
Hot
£3.80
Sweet & Sour King Prawn Cantonese Style
£5.80
Sweet & Sour Chicken Cantonese Style
£5.20
Sweet & Sour Pork Cantonese Style
£5.00
Special Set Dinner A
For one person
Chicken chop suey OR chicken chow mein
Sweet & sour chicken OR pork batter
Egg fried rice
£8.50
Special Set Dinner B For Two Persons
Beef chop suey
Sweet & sour pork in batter
Crispy pancake roll
Stir fried chow mein
Prawn crackers
£16.50
Special Set Dinner B For Three Persons
Beef chop suey
Sweet & sour pork in batter
Crispy pancake roll
Stir fried chow mein
Prawn crackers
£23.00
Special Set Dinner B For Four Persons
Beef chop suey
Sweet & sour pork in batter
Crispy pancake roll
Stir fried chow mein
Prawn crackers
£31.80
Special Set Dinner C For Two Persons
Capital spare ribs with sauce
Beef chop suey
Chicken with Pekinese mixed vegetables
Sweet & sour pork Cantonese style
Special fried rice
£22.80
Special Set Dinner C For Three Persons
Capital spare ribs with sauce
Beef chop suey
Chicken with Pekinese mixed vegetables
Sweet & sour pork Cantonese style
Special fried rice
£32.00
Special Set Dinner C For Four Persons
Capital spare ribs with sauce
Beef chop suey
Chicken with Pekinese mixed vegetables
Sweet & sour pork Cantonese style
Special fried rice
£43.80
Special Set Dinner D For Two Persons
Capital spare ribs with sauce
Beef with mushrooms
King prawn chop suey
Sweet & sour chicken in batter
 Special fried rice
£22.80
Special Set Dinner D For Three Persons
Capital spare ribs with sauce
Beef with mushrooms
King prawn chop suey
Sweet & sour chicken in batter
 Special fried rice
£32.00
Special Set Dinner D For Four Persons
Capital spare ribs with sauce
Beef with mushrooms
King prawn chop suey
Sweet & sour chicken in batter
 Special fried rice
£43.80
Special Set Dinner E For Two Persons
Aromatic crispy duck- served with pancakes, spring onions, cucumber & special hoisin sauce
Crispy seaweed 'seasonal green' in grated scallops
Fried king prawn with ginger & spring onions
Sweet & sour chicken Cantonese style
Stewed chicken with mushrooms
Special fried rice
£28.80
Special Set Dinner E For Three Persons
Aromatic crispy duck- served with pancakes, spring onions, cucumber & special hoisin sauce
Crispy seaweed 'seasonal green' in grated scallops
Fried king prawn with ginger & spring onions
Sweet & sour chicken Cantonese style
Stewed chicken with mushrooms
Special fried rice
£48.00
Special Set Dinner E For Four Persons
Aromatic crispy duck- served with pancakes, spring onions, cucumber & special hoisin sauce
Crispy seaweed 'seasonal green' in grated scallops
Fried king prawn with ginger & spring onions
Sweet & sour chicken Cantonese style
Stewed chicken with mushrooms
Special fried rice
£58.00
Special Set Dinner F For Two Persons
Capital spare ribs with sauce
Sliced beef with oyster sauce
Sweet & sour pork Cantonese style
Grilled chicken in garlic sauce
Special fried rice
£23.80
Special Set Dinner F For Three Persons
Capital spare ribs with sauce
Sliced beef with oyster sauce
Sweet & sour pork Cantonese style
Grilled chicken in garlic sauce
Special fried rice
£33.00
Special Set Dinner F For Four Persons
Capital spare ribs with sauce
Sliced beef with oyster sauce
Sweet & sour pork Cantonese style
Grilled chicken in garlic sauce
Special fried rice
£43.80
Special Set Dinner G For Two Persons
Crispy pancake roll
Fried beef with green peppers in black bean sauce
Stewed chicken with mushrooms
Sweet & sour king prawn balls
Special fried rice
£21.80
Special Set Dinner G For Three Persons
Crispy pancake roll
Fried beef with green peppers in black bean sauce
Stewed chicken with mushrooms
Sweet & sour king prawn balls
Special fried rice
£32.00
Special Set Dinner G For Four Persons
Crispy pancake roll
Fried beef with green peppers in black bean sauce
Stewed chicken with mushrooms
Sweet & sour king prawn balls
Special fried rice
£41.80
Special Vegetarian Set Dinner H For Two Persons
Vegetarian pancake rolls
Fried mushrooms & broccoli
Stir fried chow mein (soft noodles)
Hot & sour mixed vegetables (Hot)
Pineapple fried rice with cashew nuts
£18.20
Special Vegetarian Set Dinner H For Three Persons
Vegetarian pancake rolls
Fried mushrooms & broccoli
Stir fried chow mein (soft noodles)
Hot & sour mixed vegetables (Hot)
Pineapple fried rice with cashew nuts
£25.00
Special Vegetarian Set Dinner H For Four Persons
Vegetarian pancake rolls
Fried mushrooms & broccoli
Stir fried chow mein (soft noodles)
Hot & sour mixed vegetables (Hot)
Pineapple fried rice with cashew nuts
£33.00
Chef's Special Fried Rice
Complete meal for one - with sliced chicken, beef, roast pork, king prawn & mixed vegetables with sauce
£6.00
Fujian Fried Rice
Complete meal for one - with roast duck, roast pork & mixed vegetables with sauce
£6.00
Mixed Vegetable Fried Rice (Large)
Suitable for vegetarians
£4.30
Sweetcorn Fried Rice
Suitable for vegetarians
£4.30
Shredded Chicken Fried Rice
£4.50
Thailand Shrimp Fried Rice
£4.60
Pineapple Fried Rice & Cashew Nuts (Large)
£5.00
Mushroom Fried Rice (Large)
Suitable for vegetarians
£4.40
Egg Fried Rice with Spring Onions
Suitable for vegetarians
£3.60
Thailand Shrimps Foo Yung
£4.70
Shredded Chicken Foo Yung
£4.70
Mushroom Foo Yung
Suitable for vegetarians
£4.60
Plain Foo Yung
Suitable for vegetarians
£4.00
Contact Us
Find Us
8A Anchor Street, Chelmsford, CM20JY