About Us
Fortune House is a Chinese takeaway in Chelmsford. Why don't you try our Fried King Prawn with Mushrooms or Sweet & Sour Chicken in Batter (10)?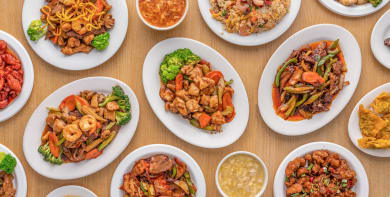 Reviews
338 reviews
Derek
"Good portions of enjoyable food with lovely flavours."
12/06/2021
Dave
"Delivered on time, piping hot, generous portions and great taste."
11/06/2021
Julia
"Outstanding quality food and brilliant service,"
24/05/2021
lisa
"Arrived on time, hot and well packed tasted great"
22/05/2021
Menu
Coca-Cola Original Taste 330ml Can
£0.80
Coca-Cola Original Taste 1.5L Bottle
£2.20
Gourmet Appetisers (For 2 Persons)
Spare ribs, prawn on toast, crispy pancake rolls, crispy king prawns, seaweed & sweet & sour sauce
£9.80
Aromatic Crispy Duck Quarter (6 Pancakes)
Served with spring onions, cucumber & special hoisin sauce
£8.80
Aromatic Crispy Duck Half (12 Pancakes)
Served with spring onions, cucumber & special hoisin sauce
£16.50
Aromatic Crispy Duck Whole (24 Pancakes)
Served with spring onions, cucumber & special hoisin sauce
£31.00
Mongolian Crispy Lamb For 2
With hoisin sauce & 6 pancakes
£8.80
Mongolian Crispy Lamb
In hoisin sauce & spring onions
£8.00
Prawn on Toast with Sesame Seeds
£4.50
Mixed Vegetable Soup
Suitable for vegetarians
£3.00
Hot & Sour Soup Szechuan Style
Hot
£3.20
Crab Meat & Sweetcorn Soup
£3.40
Salt & Pepper King Prawn
Hot
£6.00
Shredded Smoked Chicken (Dry)
£5.60
Salt & Pepper Chicken
Hot
£5.40
Capital Spare Ribs with Sauce
£5.60
Salt & Pepper Spare Ribs (Large)
Hot
£5.60
Barbecued Spare Ribs of Pork (Dry)
£5.60
Spare Ribs with Barbecue Sauce (Large)
£5.60
Chicken Satay (4 Skewers)
£5.40
King Prawn Satay (4 Skewers)
£6.00
Crispy Chinese Dumplings (6)
£5.20
Crispy Mini Pancake Roll
With duck
£4.50
Crispy Vegetarian Pancake Rolls (6)
Suitable for vegetarians
£3.50
Garlic Mushrooms
Suitable for vegetarians
£3.70
Crispy Seaweed
Seasonal green
£3.70
Crispy Won Ton with Sweet & Sour Sauce
£3.70
Spicy Singapore Rice Noodles (Large)
Hot
£5.60
Vegetarian Singapore Rice Noodles (Large)
Suitable for vegetarians
Hot
£5.20
Singapore Fried Rice (Large)
Hot
£5.60
Chow Mein Singapore Style (Large)
Hot
£5.60
Mixed Vegetable Udon (Large)
£5.20
Chef's Special Fried Rice
Complete meal for one - with sliced chicken, beef, roast pork, king prawn & mixed vegetables with sauce
£6.00
Fujian Fried Rice
Complete meal for one - with roast duck, roast pork & mixed vegetables with sauce
£6.00
Mixed Vegetable Fried Rice (Large)
Suitable for vegetarians
£4.50
Sweetcorn Fried Rice
Suitable for vegetarians
£4.50
Shredded Chicken Fried Rice
£4.70
Thailand Shrimp Fried Rice
£4.80
Pineapple Fried Rice & Cashew Nuts (Large)
£5.20
Mushroom Fried Rice (Large)
Suitable for vegetarians
£4.60
Egg Fried Rice with Spring Onions
Suitable for vegetarians
£3.80
Shredded Chicken Chow Mein
£4.90
Shredded Roast Duck Chow Mein
£5.80
Thailand Shrimp Chow Mein
£5.20
Stir Fried Chow Mein
Suitable for vegetarians
£3.80
Mixed Vegetable Chow Mein (Large)
Suitable for vegetarians
£4.70
Mushroom Chow Mein (Large)
Suitable for vegetarians
£4.70
Crispy Chilli Beef A La Peking
Hot
£5.70
Special Fried Three Meats
£5.60
Beef Buttered in Black Pepper Sauce
£5.80
Cantonese Style Plum Sauce (C) Sliced Chicken
£5.70
Cantonese Style Plum Sauce (D) Fried Beef
£5.70
Cantonese Style Plum Sauce (A) King Prawn
£6.00
Cantonese Style Plum Sauce (B) Sliced Roast Duck
£6.00
King Prawn with Satay Sauce
£6.00
Sliced Chicken with Satay Sauce
£5.70
Fried Beef with Satay Sauce
£5.70
Grilled Chicken with Lemon Sauce
£5.70
Grilled Chicken in Garlic Sauce A La Peking
£5.70
Sliced Chicken with Garlic
£5.70
Diced Chicken in Yellow Bean Sauce
With cashew nuts
£5.90
Fried King Prawn in Yellow Bean Sauce
With cashew nuts
£6.00
Fried Green Peppers in Black Bean Sauce (B) Sliced Beef
Slightly hot
£5.70
Fried Green Peppers in Black Bean Sauce (C) Diced Chicken
Slightly hot
£5.70
Fried Green Peppers in Black Bean Sauce (F) Roast Pork
Slightly hot
£5.70
Fried Green Peppers in Black Bean Sauce (A) King Prawn
Slightly hot
£6.00
Fried Green Peppers in Black Bean Sauce (D) Sliced Squid
Slightly hot
£6.00
Fried Green Peppers in Black Bean Sauce (E) Roast Duck
Slightly hot
£6.00
Fried Green Peppers in Black Bean Sauce (H) Chopped Lamb
Slightly hot
£6.00
Fried Green Peppers in Black Bean Sauce (G) Scallops
Slightly hot
£7.40
Hunan Chicken in Spicy Sauce
Hot
£5.60
Sliced Chicken in Szechuan Style (Hot & Sour)
Hot
£5.60
Fried Chicken in Chilli Sauce
Hot
£5.60
Fried Chicken with Ginger & Spring Onions
£5.60
Sliced Beef in Chilli Sauce
Hot
£5.60
Fried Beef with Ginger & Spring Onions
£5.60
Sliced Beef in Szechuan Style (Hot & Sour)
Hot
£5.60
Roast Pork in Szechuan Style (Hot & Sour)
Hot
£5.60
Fried Beef in Oyster Sauce
£5.60
Fried Chicken in Oyster Sauce
£5.60
Fried King Prawn in Oyster Sauce
£6.00
Honey in Hot Chilli Sauce (Hot & Spicy) (B) Sliced Beef
Hot
£5.60
Honey in Hot Chilli Sauce (Hot & Spicy) (C) Chicken
Hot
£5.60
Honey in Hot Chilli Sauce (Hot & Spicy) (E) Pork
Hot
£5.60
Honey in Hot Chilli Sauce (Hot & Spicy) (A) King Prawn
Hot
£6.00
Honey in Hot Chilli Sauce (Hot & Spicy) (D) Duck
Hot
£6.00
Fried Scallops with Ginger & Spring Onions
£7.40
Fried King Prawn with Scallops
£7.20
Stir Fried King Prawn
With scallops & squid supreme
£7.20
Fried Scallops, King Prawns & Squid
With green peppers in black bean sauce
Hot
£7.40
Fried Scallops with Mixed Vegetables
£7.40
Pan Fried Squid with Mixed Vegetables
£6.00
Fried Squid with Ginger & Spring Onions
£6.00
Fried King Prawn in Garlic Sauce
With bamboo shoots
£6.00
Special King Prawn in Szechuan Style
Hot & sour
£6.00
Deep Fried King Prawn in Batter
£6.00
Fried King Prawn with Mushrooms
£6.00
Fried King Prawn with Garlic
£6.00
Fried King Prawn with Mixed Vegetables
£6.00
Fried King Prawn with Tomatoes
£6.00
Fried King Prawn with Ginger & Spring Onions
£6.00
Fried King Prawn with Onions
£6.00
Fried King Prawn with Pineapples
£6.00
Fried King Prawns with Cashew Nuts
With water chestnuts & bamboo shoots
£6.00
Sliced Roast Duck with Pineapple
£6.00
Sliced Duck with Mixed Vegetables
£6.00
Roast Duck with Soya Sauce
£6.00
Roast Duck with Cashew Nuts
£6.00
Sliced Duck with Mushrooms
£6.00
Roast Duck with Orange Sauce
£6.00
Roast Chicken Chinese Style
£5.10
Stewed Chicken with Mushrooms
£5.10
Fried Chicken with Pineapples
£5.10
Stewed Chicken with Cashew Nuts
With water chestnuts, bamboo shoots
£5.10
Diced Chicken with Mixed Vegetables
£5.10
Chicken with Cream Style Sweetcorn
£5.00
Fried Chicken with Onions
£5.10
Fried Chicken with Bamboo Shoots
With water chestnuts
£5.10
Grilled Chicken with Orange Sauce
£5.30
Fried Beef with Mushrooms
£5.30
Stewed Beef with Mixed Vegetables
£5.30
Roast Pork with Mushrooms
£5.20
Roast Pork in Oyster Sauce
£5.20
Sliced Beef with Cashew Nuts
With water chestnuts & bamboo shoots
£5.40
Sweet & Sour Mixed (12)
Prawn chicken & pork
£5.70
Sweet & Sour Pork in Batter (10)
£4.80
Sweet & Sour Chicken in Batter (10)
£5.00
Sweet & Sour King Prawn in Batter (10)
£6.00
Sweet & Sour Spare Ribs with Pineapples
£5.60
Sweet & Sour Mixed Vegetables
£4.00
Hot & Sour Mixed Vegetables
Hot
£4.00
Sweet & Sour King Prawn Cantonese Style
£6.00
Sweet & Sour Chicken Cantonese Style
£5.40
Sweet & Sour Pork Cantonese Style
£5.20
Thailand Shrimps Foo Yung
£4.90
Shredded Chicken Foo Yung
£4.90
Mushroom Foo Yung
Suitable for vegetarians
£4.80
Plain Foo Yung
Suitable for vegetarians
£4.20
Chopped Lamb Curry (Large)
£5.70
Mixed Vegetables Curry (Large)
Suitable for vegetarians
£4.60
Mushroom Curry (Large)
Suitable for vegetarians
£4.60
Thailand Shrimps Chop Suey
£5.10
Mushroom Chop Suey
Suitable for vegetarians
£4.30
Quarter Roast chicken with Mushroom, Peas & Chips
In gravy
£5.80
Plain Omelette & Chips
Suitable for vegetarians
£5.00
Mushroom Omelette & Chips
£5.20
King Prawn Omelette & Chips
£5.90
Fried Mushrooms
Suitable for vegetarians
£3.60
Stir Fried Mushrooms
Suitable for vegetarians
£3.90
Tofu with Mixed Vegetables
Suitable for vegetarians
£4.40
Tofu with Ginger & Spring Onions
£4.90
Tofu with Chilli & Salt
Suitable for vegetarians
Hot
£4.90
Tofu with Chilli & Black Bean Sauce
Hot
£4.90
Thai Style Fried Tofu
Hot
£5.10
Portion of Fried Onions
Suitable for vegetarians
£3.40
Fried Pekinese Mixed Vegetables
£4.00
Fried Mixed Vegetables
With chilli black bean sauce
Hot
£4.10
Fried Bamboo Shoots & Water Chestnuts
Suitable for vegetarians
£3.60
Stir Fried Bean Sprouts
Suitable for vegetarians
£3.40
Curry Sauce on Chips
Suitable for vegetarians
£2.70
Sweet & Sour Sauce on Chips
Suitable for vegetarians
£2.70
Portions of Chips
Suitable for vegetarians
£2.00
Chips with Salt & Pepper
Suitable for vegetarians
Hot
£2.70
Banana Fritter with Syrup
Suitable for vegetarians
£3.20
Pineapple Fritter with Syrup
Suitable for vegetarians
£3.20
Chicken with Curry Green
Hot
£5.70
Chicken with Curry Red
Hot
£5.70
Roast Duck with Curry Green
Hot
£6.30
Roast Duck with Curry Red
Hot
£6.30
Beef with Curry Green
Hot
£5.80
Seafood with Curry Green
Hot
£7.50
Seafood with Curry Red
Hot
£7.50
King Prawn with Curry Green
Hot
£6.30
King Prawn with Curry Red
Hot
£6.30
Thai Spicy Spare Ribs
Hot
£5.90
Thai Style Chicken with Cashew Nuts
Hot
£6.00
Thai Style King Prawn
Hot
£6.50
Thai Style Chicken Wings
Hot
£5.50
Peking Style Chicken Wings (6 Pieces)
£4.50
Salt & Chilli Chicken Wings (6 Pieces)
Hot
£4.50
Crispy Honey Chicken Wings (6 Pieces)
£4.50
Sweet & Sour Chicken Wings (6 Pieces)
£4.50
Plain Chicken Wings (6 Pieces)
£3.90
Special Set Dinner A
For one person
Chicken chop suey OR chicken chow mein
Sweet & sour chicken OR pork batter
Egg fried rice
£9.00
Special Set Dinner B For Two Persons
Beef chop suey
Sweet & sour pork in batter
Crispy pancake roll
Stir fried chow mein
Prawn crackers
£17.50
Special Set Dinner B For Three Persons
Beef chop suey
Sweet & sour pork in batter
Crispy pancake roll
Stir fried chow mein
Prawn crackers
£24.00
Special Set Dinner B For Four Persons
Beef chop suey
Sweet & sour pork in batter
Crispy pancake roll
Stir fried chow mein
Prawn crackers
£33.80
Special Set Dinner C For Two Persons
Capital spare ribs with sauce
Beef chop suey
Chicken with Pekinese mixed vegetables
Sweet & sour pork Cantonese style
Special fried rice
£23.80
Special Set Dinner C For Three Persons
Capital spare ribs with sauce
Beef chop suey
Chicken with Pekinese mixed vegetables
Sweet & sour pork Cantonese style
Special fried rice
£34.00
Special Set Dinner C For Four Persons
Capital spare ribs with sauce
Beef chop suey
Chicken with Pekinese mixed vegetables
Sweet & sour pork Cantonese style
Special fried rice
£46.80
Special Set Dinner D For Two Persons
Capital spare ribs with sauce
Beef with mushrooms
King prawn chop suey
Sweet & sour chicken in batter
 Special fried rice
£23.80
Special Set Dinner D For Three Persons
Capital spare ribs with sauce
Beef with mushrooms
King prawn chop suey
Sweet & sour chicken in batter
 Special fried rice
£34.00
Special Set Dinner D For Four Persons
Capital spare ribs with sauce
Beef with mushrooms
King prawn chop suey
Sweet & sour chicken in batter
 Special fried rice
£46.80
Special Set Dinner E For Two Persons
Aromatic crispy duck- served with pancakes, spring onions, cucumber & special hoisin sauce
Crispy seaweed 'seasonal green' in grated scallops
Fried king prawn with ginger & spring onions
Sweet & sour chicken Cantonese style
Stewed chicken with mushrooms
Special fried rice
£29.80
Special Set Dinner E For Three Persons
Aromatic crispy duck- served with pancakes, spring onions, cucumber & special hoisin sauce
Crispy seaweed 'seasonal green' in grated scallops
Fried king prawn with ginger & spring onions
Sweet & sour chicken Cantonese style
Stewed chicken with mushrooms
Special fried rice
£51.00
Special Set Dinner E For Four Persons
Aromatic crispy duck- served with pancakes, spring onions, cucumber & special hoisin sauce
Crispy seaweed 'seasonal green' in grated scallops
Fried king prawn with ginger & spring onions
Sweet & sour chicken Cantonese style
Stewed chicken with mushrooms
Special fried rice
£62.00
Special Set Dinner F For Two Persons
Capital spare ribs with sauce
Sliced beef with oyster sauce
Sweet & sour pork Cantonese style
Grilled chicken in garlic sauce
Special fried rice
£24.80
Special Set Dinner F For Three Persons
Capital spare ribs with sauce
Sliced beef with oyster sauce
Sweet & sour pork Cantonese style
Grilled chicken in garlic sauce
Special fried rice
£35.00
Special Set Dinner F For Four Persons
Capital spare ribs with sauce
Sliced beef with oyster sauce
Sweet & sour pork Cantonese style
Grilled chicken in garlic sauce
Special fried rice
£46.80
Special Set Dinner G For Two Persons
Crispy pancake roll
Fried beef with green peppers in black bean sauce
Stewed chicken with mushrooms
Sweet & sour king prawn balls
Special fried rice
£22.80
Special Set Dinner G For Three Persons
Crispy pancake roll
Fried beef with green peppers in black bean sauce
Stewed chicken with mushrooms
Sweet & sour king prawn balls
Special fried rice
£34.00
Special Set Dinner G For Four Persons
Crispy pancake roll
Fried beef with green peppers in black bean sauce
Stewed chicken with mushrooms
Sweet & sour king prawn balls
Special fried rice
£43.80
Special Vegetarian Set Dinner H For Two Persons
Vegetarian pancake rolls
Fried mushrooms & broccoli
Stir fried chow mein (soft noodles)
Hot & sour mixed vegetables (Hot)
Pineapple fried rice with cashew nuts
£19.20
Special Vegetarian Set Dinner H For Three Persons
Vegetarian pancake rolls
Fried mushrooms & broccoli
Stir fried chow mein (soft noodles)
Hot & sour mixed vegetables (Hot)
Pineapple fried rice with cashew nuts
£27.00
Special Vegetarian Set Dinner H For Four Persons
Vegetarian pancake rolls
Fried mushrooms & broccoli
Stir fried chow mein (soft noodles)
Hot & sour mixed vegetables (Hot)
Pineapple fried rice with cashew nuts
£35.00
Contact Us
Find Us
8A Anchor Street, Chelmsford, CM20JY